Online Banking in Joy State Bank provides you with 24-hour banking convenience. The the bank's online service, you can check your account balances, transfer funds between accounts, pay your loan or your bills online. You can enroll for the service by clicking the Online Enrollment link to access the internet banking tools. The bank allows its customers to enjoy freedom away from stamps and waiting for the postal system. Only account holders in the bank can register for Joy State Bank Online Banking to take advantage of the time saving service. Simply enroll for the Online Banking in the Joy State Bank's Online Banking website. The guide below will show you how you as a customer can login and enroll for the Online Banking service.
HOW TO LOG IN
This is only possible to Joy State Bank's Online Banking customers who have approved login credentials to access bank accounts online. To access the online banking service, You will have to enter your User ID and Password. Below are the login steps:
Step 1- Go to http://www.joystatebank.com to access Joy State Bank website
Step 2- In the homepage, please enter your User ID, then click Login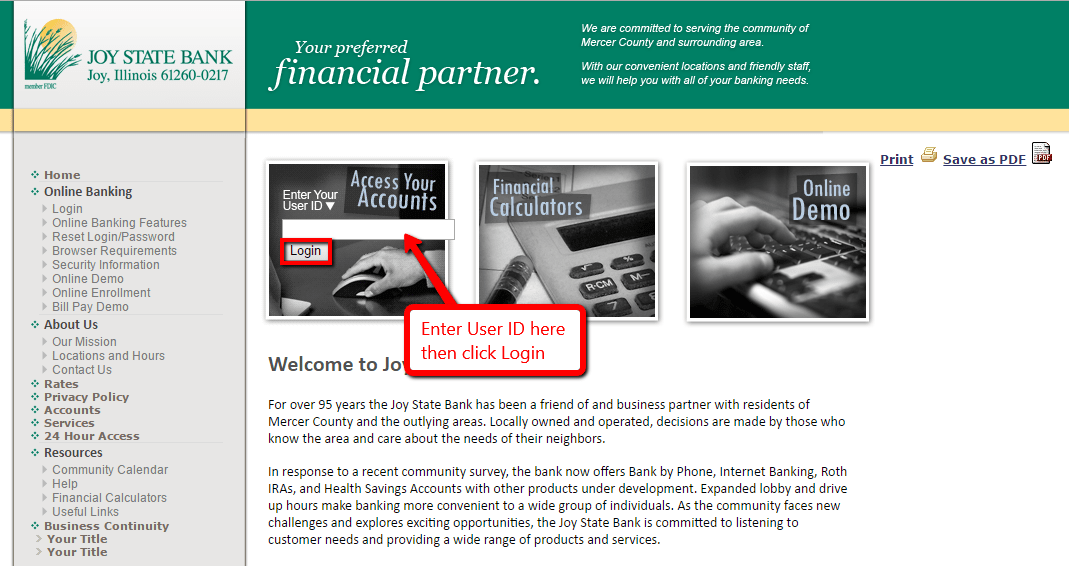 Step 3- Answer your security code in the shown area, then click Submit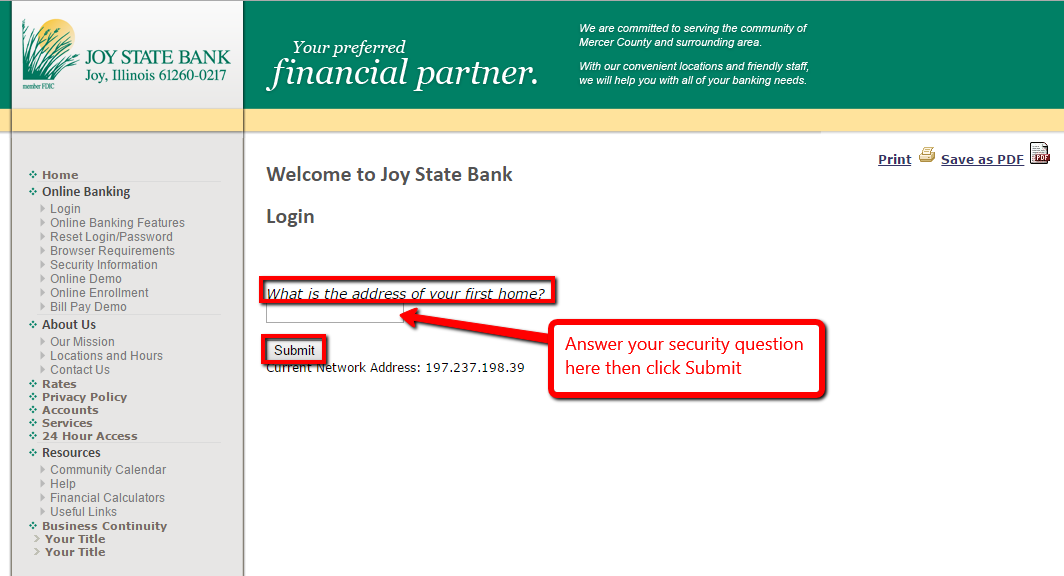 After approving your credentials, the bank will allow you to enter your password before you can access your online banking account
FORGOTTEN PASSWORD/ LOGIN ID?
If you can't recall your login information or your account is locked, please contact Joy State Bank at 309-584-4146 and request your login information be reset.
HOW TO ENROLL
If you are Joy State Bank customer, please feel free to enroll for the online banking service through the following steps:
Step 1- In the homepage, please click the Online Enrollment link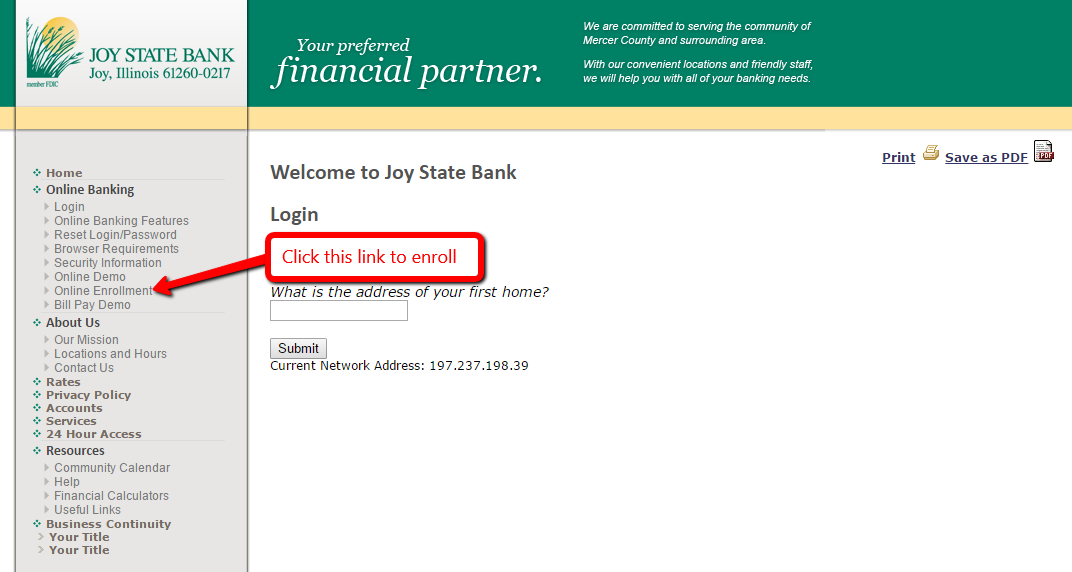 Step 2- Please fill in the opened online banking form, then click Save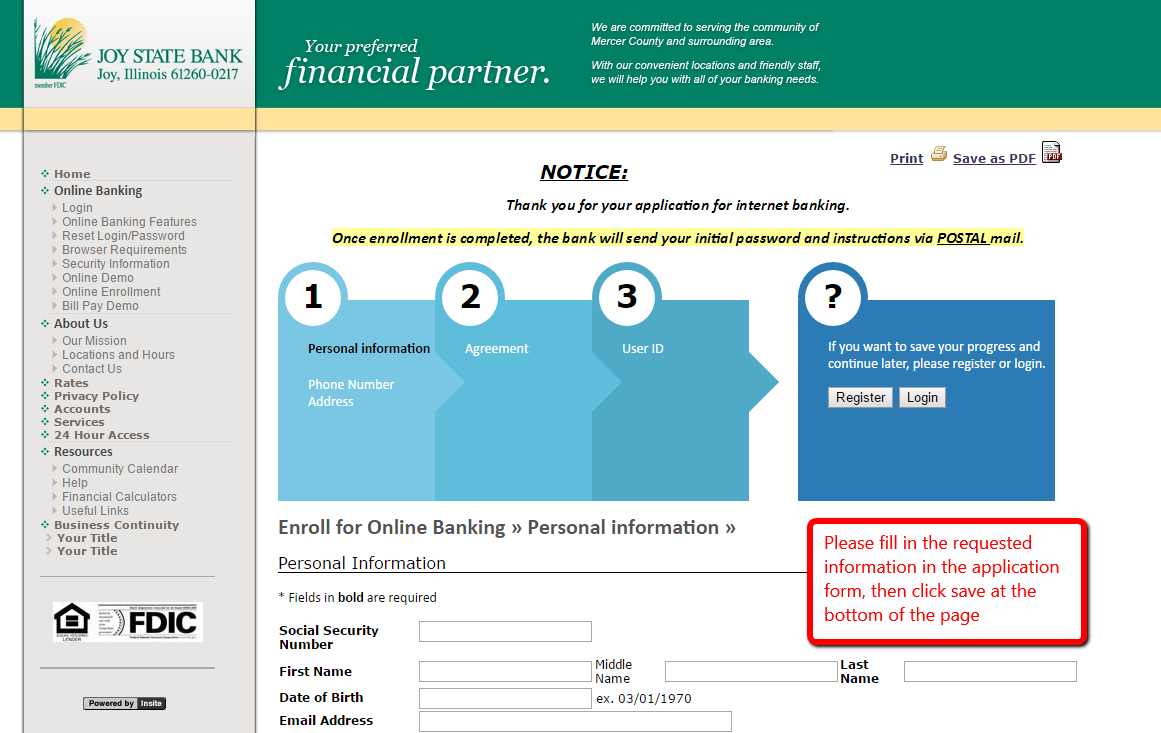 After completing the enrollment process, you will receive in your postal mail your initial password and instructions.
MANAGE JOY STATE BANK ONLINE ACCOUNT
Joy State Bank's Online Banking enable clients to:
See balance in your checking, savings, CDs, loans accounts
Search transaction history
See account statement
Transfer funds between accounts