Landmark Bank is pleased to announce the launching of their new Internet & Mobile Banking services. In the next section, we will take you through internet banking login procedure, show you how to reset the password, and create an internet banking account.
HOW TO LOGIN
Landmark Bank's internet banking options allow you to access your account without leaving home. To log in, simply follow the steps shown below:
Step 1- Open your browser and go to www.landmarkbank.com
Step 2- Click on the 'Internet Banking Login', as shown bellow: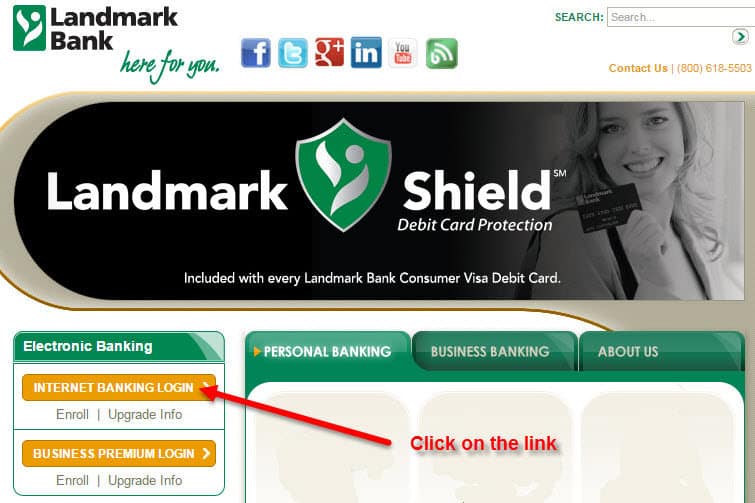 Step 3- Enter your existing User ID in all lowercase letters and click Continue: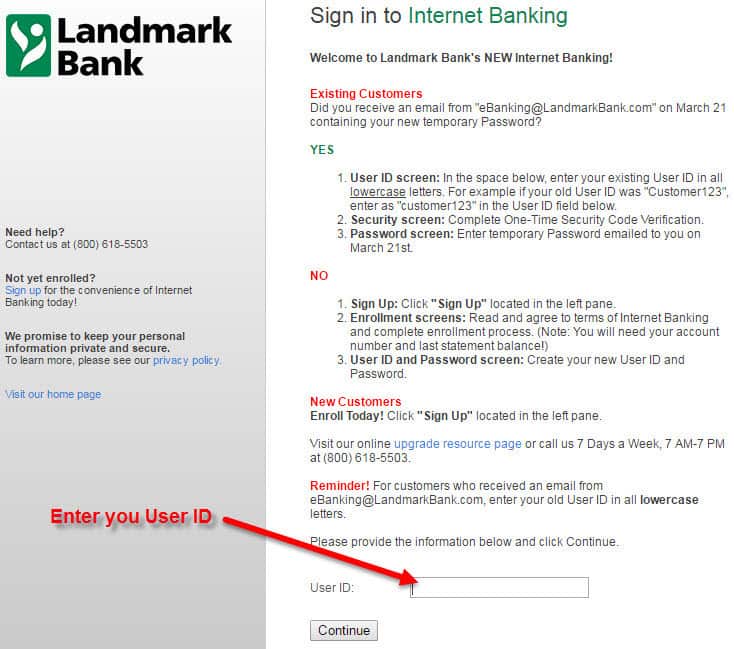 Step 4- Enter your Password and click Sign In button: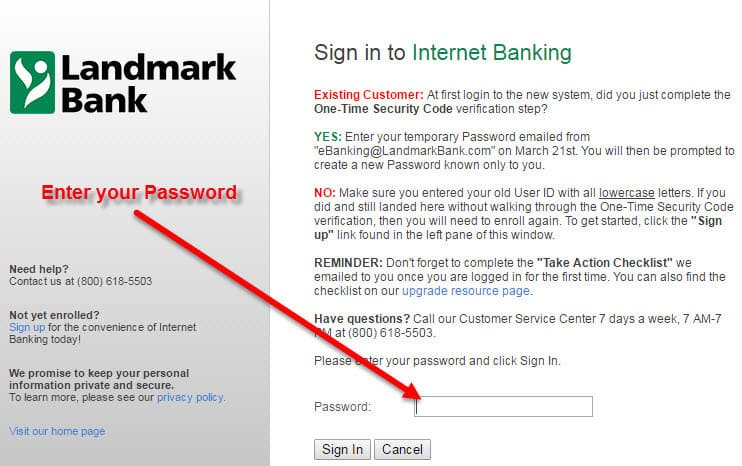 If the credentials are correct you will be directed to the dashboard of your Landmark Bank Internet Banking Account.
FORGOT PASSWORD?
If you forgot your password you will need to contact the Landmark Bank directly as they do not allow online password change due to their strict security reasons. We suggest you contact the bank through their telephone number 800-618-5503 or by going directly into one of their branches.
ENROLL FOR ONLINE BANKING
You must have an open, active deposit account or loan at Landmark Bank to enroll in this service. Landmark Bank allows its customers to enroll for online banking, enrolling is easy and fast, simply do as follows:
Step 1- Go to the homepage and click on the 'Enroll' link as shown: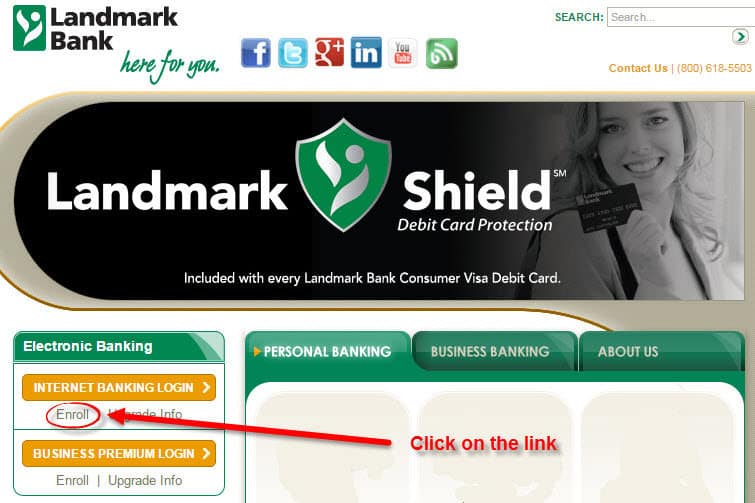 Step 2- Click on the 'Enroll Now' button: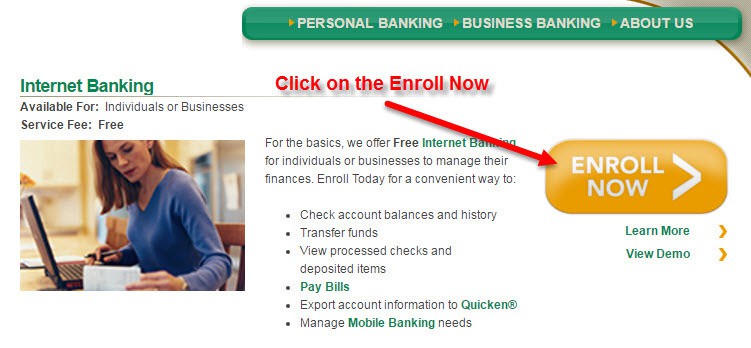 Step 3- Select your Account type, read the agreements and check box 'I have read and agree to the terms…', and click Continue: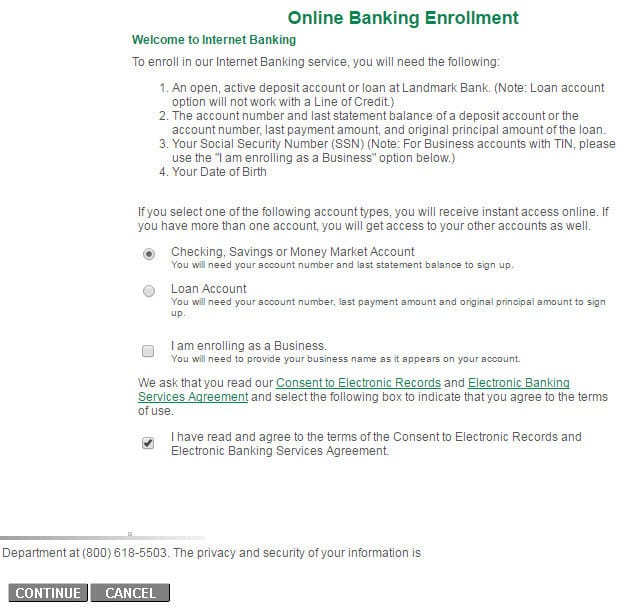 Step 4- Complete Online Banking Enrollment form with your Personal and Account details and click Continue: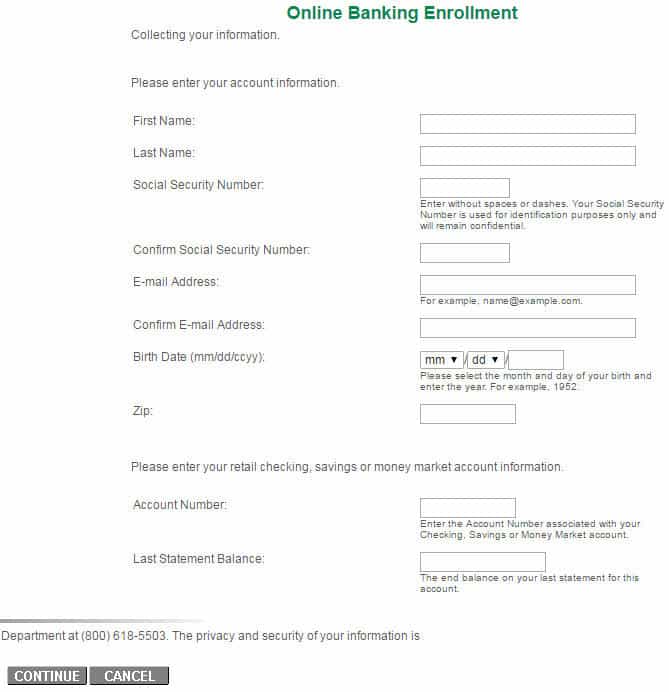 If you need more assistance contact Landmark Bank's Customer Service Department at 800-618-5503.
MANAGE LANDMARK BANK ONLINE BANKING ACCOUNT
For the basics, Landmark Bank offers free Internet Banking for individuals or businesses to manage their finances online, pay bills, and view your account statements without opening an envelope. Enroll today for a convenient way to:
Check account balances and history
Transfer funds
View processed checks and deposited items
Pay Bills
Export account information to Quicken®