National Bank of Arizona is not just a business bank anymore, NB/AZ expanded their services to include much more services to their client and are now considered full-service bank. They are well known for their great service and friendly attitude towards their clients. In the section below we'll walk you through the login process into their online banking system and show you how to reset your password in case you forgot it, you can also read about creating a new account in case you don't have one yet.
HOW TO LOGIN
As a customer, you can easily and securely sign into your National Bank of Arizona Online Banking Account from anywhere. To log in, simply follow the steps shown below:
Step 1- Open your browser and go to www.nbarizona.com
Step 2- Enter your User ID and Password and click GO:

If the credentials are correct you will be directed to the dashboard of your NB/AZ Online Banking Account.
Note: Password and User ID are case sensitive. Make sure that you're using the right case.
FORGOT PASSWORD?
National Bank of Arizona allows customers who want to change or have forgotten their passwords to do so. To reset your password, simply do as follows:
Step 1- Go to homepage and click on the Password Reset link, as shown:

Step 2- Enter your User ID and click Continue button: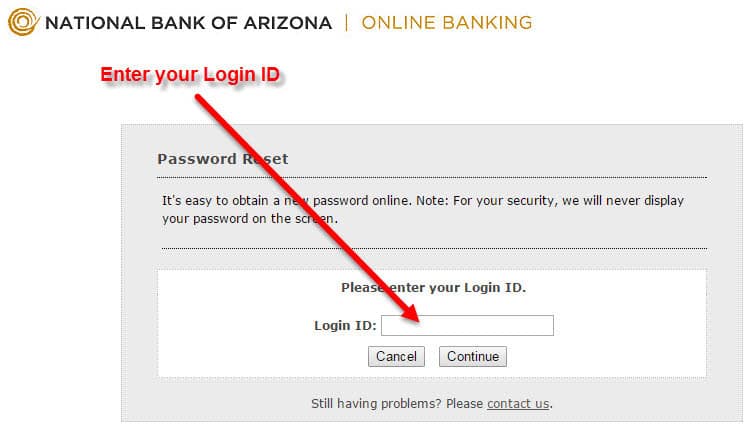 Step 3- On the next page, you will be guided thru Password reset process. Or call Online Banking Support at 1-800-497-8168 during the hours of Monday – Saturday 8 AM to 8 PM. to have your password reset.
ENROLL FOR ONLINE BANKING
If you are an existing National Bank of Arizona customer with a valid ATM pin number, online banking enrollment will take just a few minutes to complete. To enroll for an online banking account follow these simple steps:
Step 1- Go to homepage and click on the Sign Up Now link:

Step 2- Click on the Enroll button: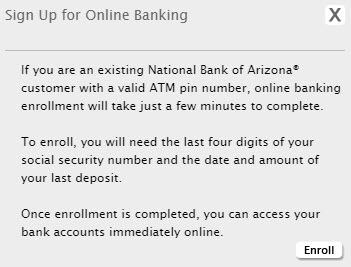 Step 3- Select the online service you want to enroll in, and then click on Continue: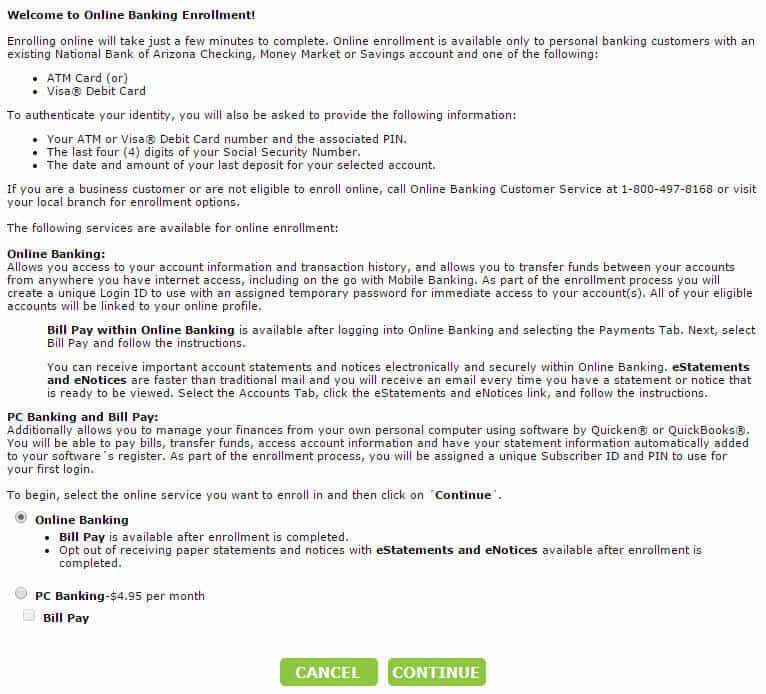 Step 4- Enter your ATM or Visa Debit Card number, Select your Card Type, enter the last 4 digits of your Social Security Number, and then click Continue:

Step 5- On the next pages, enter your Deposit and Profile information and confirm enrollment.
If you need more assistance call NB/AZ Online Banking Support at 1-800-497-8168 or visit one of their branches.
MANAGE NATIONAL BANK OF ARIZONA ONLINE BANKING ACCOUNT
Online Banking at National Bank of Arizona puts you in control of your money as well as your time. Access your financial information 24 hours a day with NB/AZ Online Banking. Features of Online Banking include:
Bill Pay
Check Images
Enhanced Account Protection
eNotices
eStatements
MyAlerts™
Funds Transfer
External Transfers
Stop Payments
The Web Protection Software
VIDEO INSTRUCTIONS