YNB Bank Online Banking allows you 24/7 free access to your accounts to check account balances, make transfers, or even see account history information. The service is only accessible to those who have valid login credentials. Please consider the following guide if you are YNB Bank customer who wants to login, recover forgotten login credentials and enroll for the online banking service.
HOW TO LOG IN
YNB Bank Online Banking customers can access their accounts by following this login guideline:
Step 1- Click http://www.ynbok.com/ in your browser to access YNB Bank website
Step 2- In the bank's homepage, click Online Banking Access you Account Now! link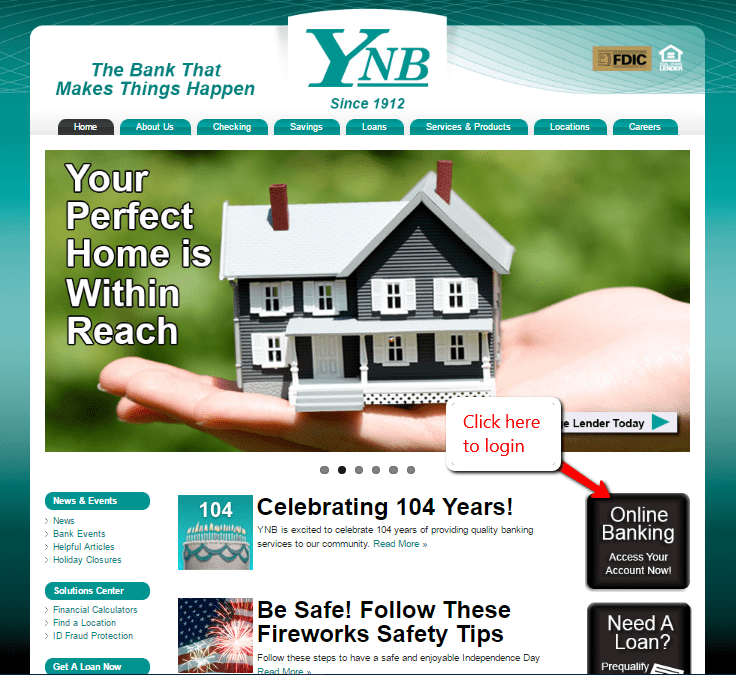 Step 3- Please enter your Sign-on ID then click Enter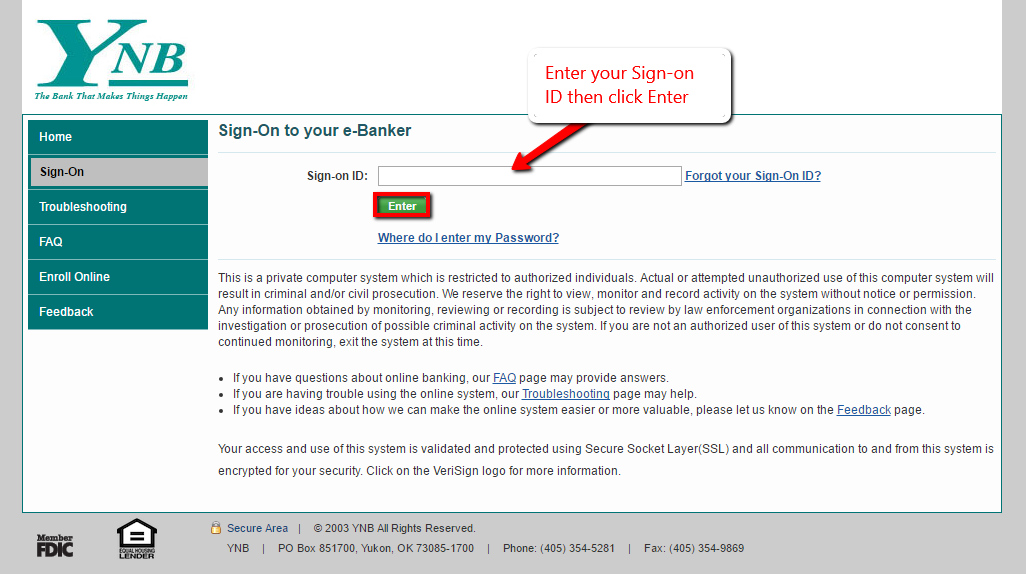 Step 4- In the opened page, enter your password, then click Sign-On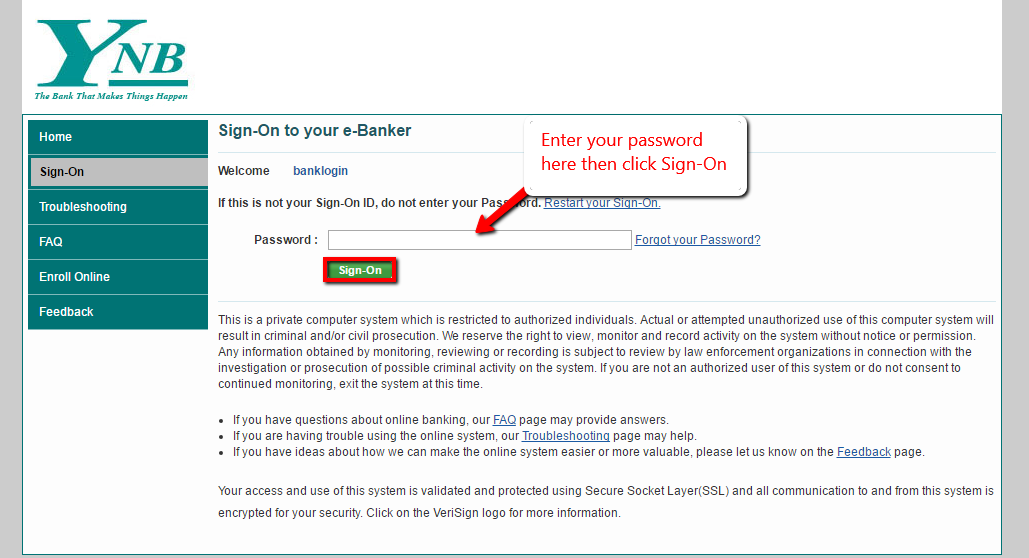 Upon verifying your credentials, the bank will give you access to your accounts
FORGOTTEN PASSWORD/ LOGIN ID?
If a valid Online Banking client in YNB Bank forgets his/her login credentials, the bank provides a way of recovering forgotten credentials, online. Please follow this guide to recover your login credentials:
Recover Sign-On ID
To recover your Sign-On ID, you must send a feedback message to the Support Desk indicating the fact that you have forgotten your Sign-On ID
Step 1- Please follow the first two steps in the login section above
Step 2- Please click Forgot your Sign-On ID? link next to the Sign-On ID field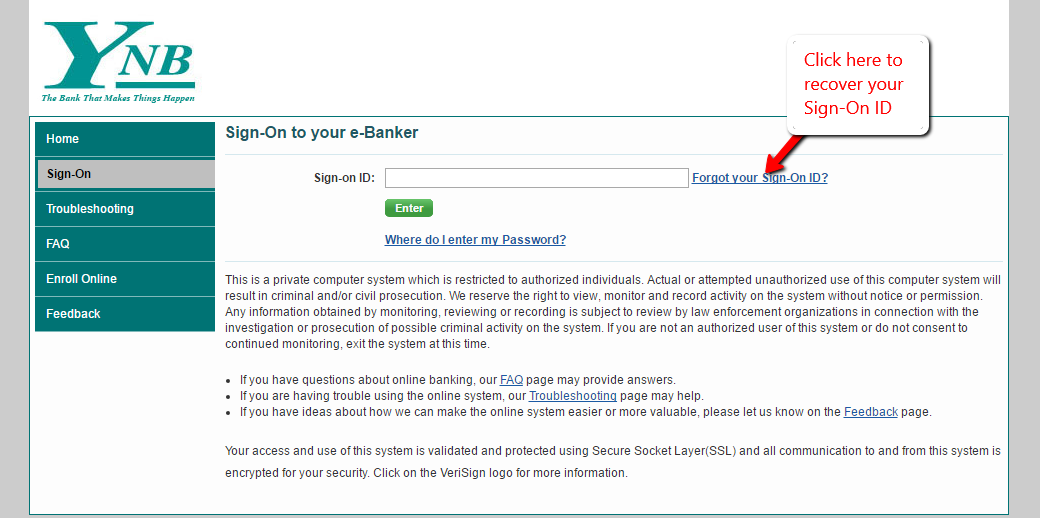 Step 3- Click the feedback link shown below to send feedback message to the Support Desk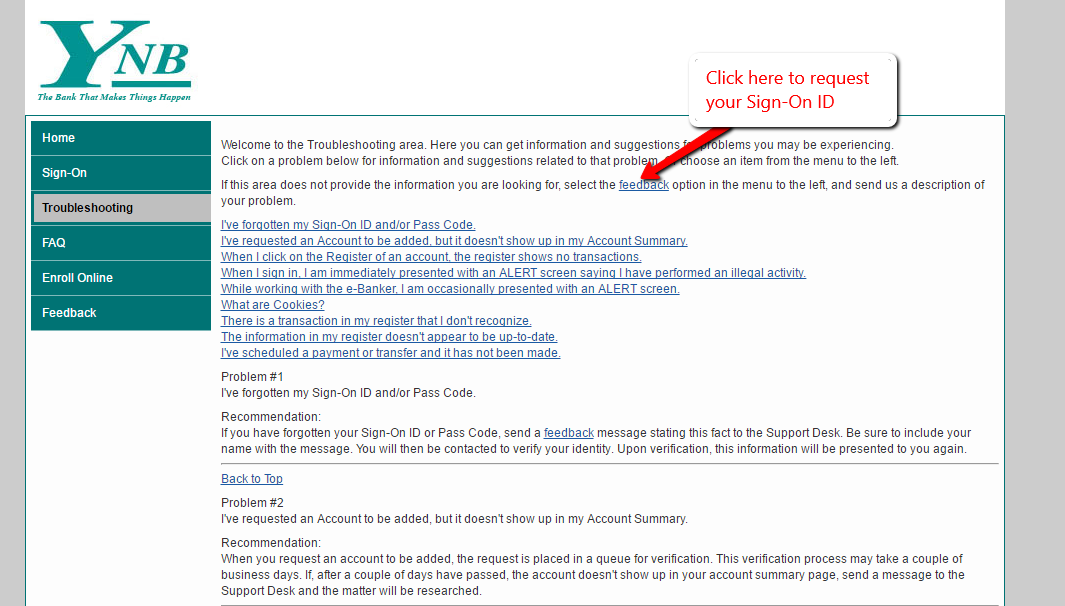 Step 4- Please fill in the feedback form indicating that you have forgotten your Sign-On ID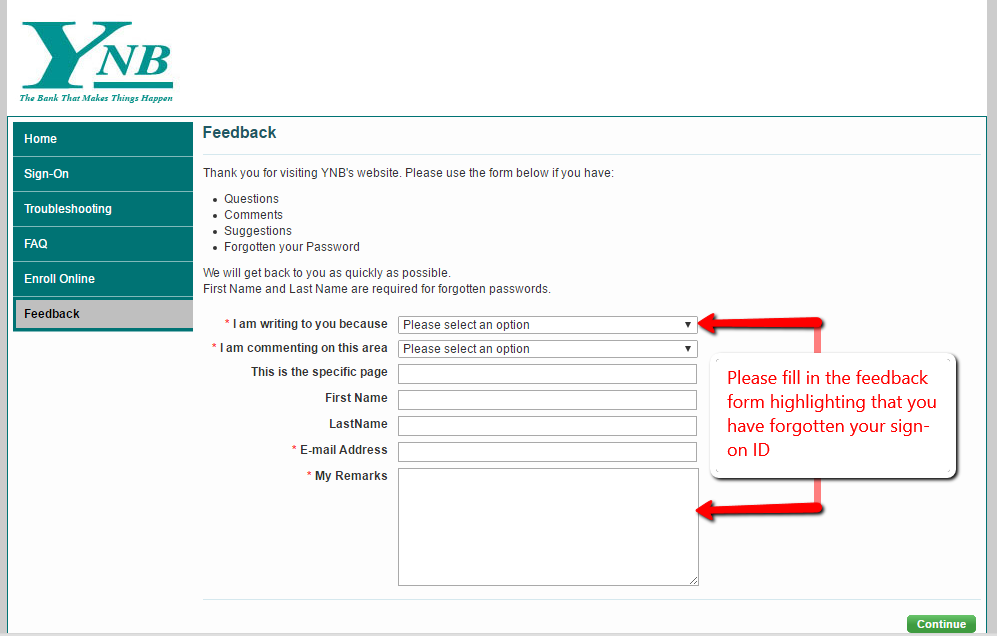 You will be contacted to verify your identity. After verification, your Sign-On ID will be presented to you again.
Resetting Password
Step 1- After submitting your Sign-On ID, please click Forgot your Password? link to reset password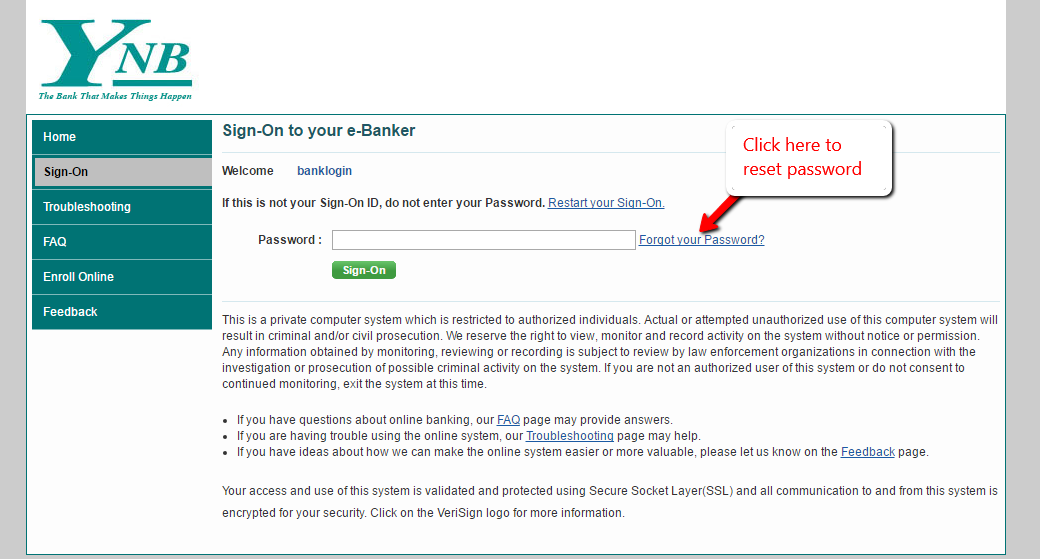 Step 2- Please enter your Sign-On ID and Email address and click Continue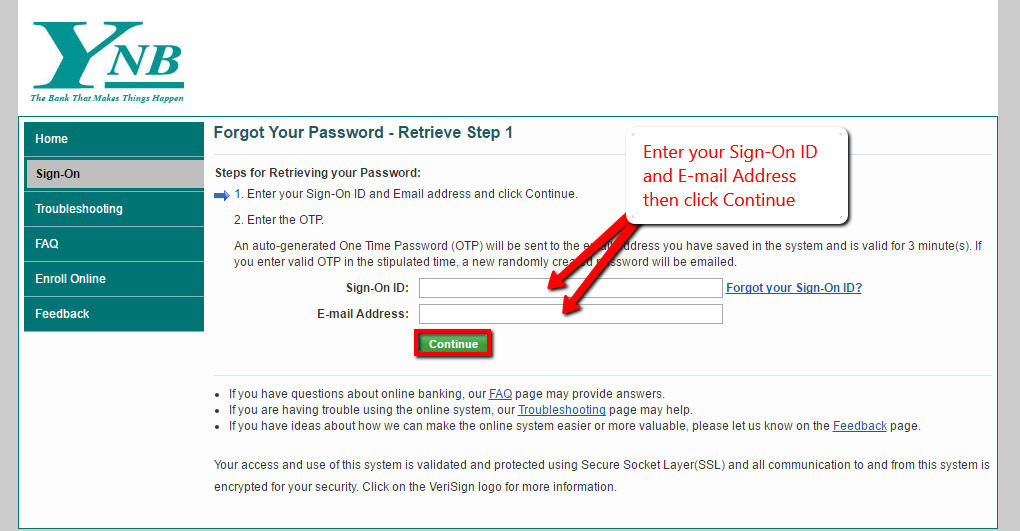 You will receive your auto-generated One Time Password (OTP) in the email address you registered and the OTP is valid for 3 minute(s). After entering the valid OTP within the stipulated time, the bank will send in you email a new randomly created password.
HOW TO ENROLL
To enroll for the online banking service in YNB Bank, please consider the following steps:
Step 1- Please follow the first two steps in the login section
Step 2- Click the Enroll Online link to enroll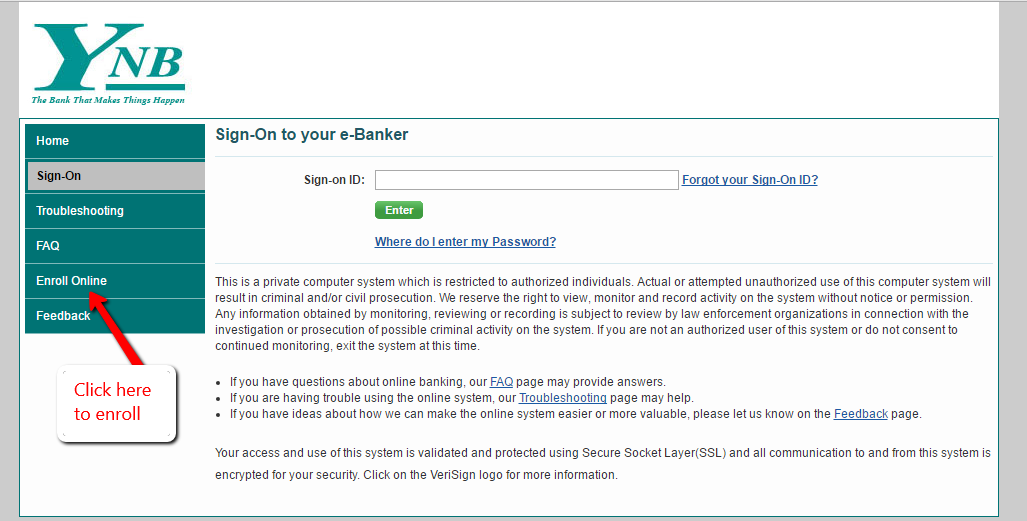 Step 3- Click the "Enroll a Person" button

Step 4- Please review the Access Agreement then click Agree to proceed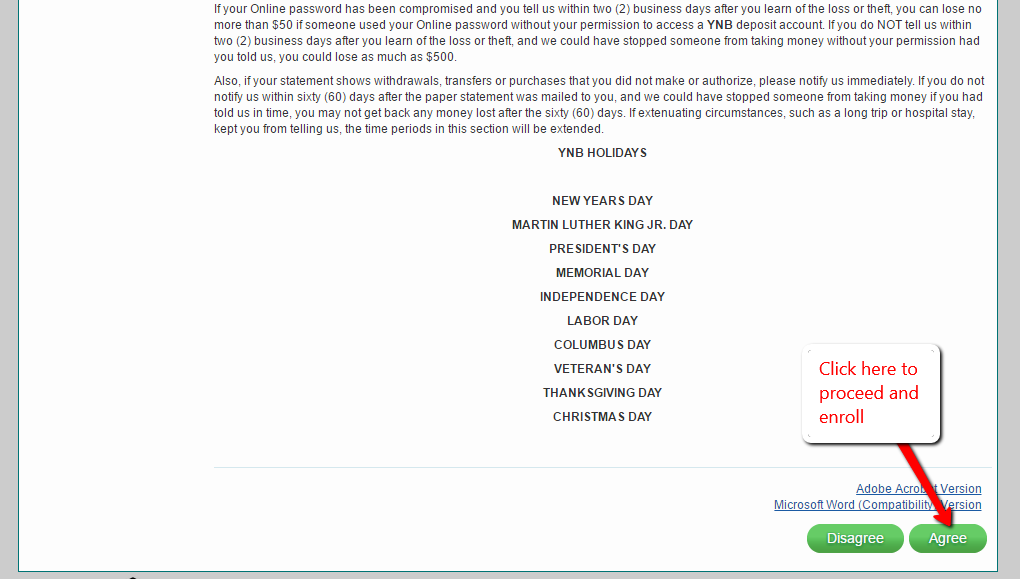 Step 5- Please fill in the requested personal information in the form that appears, then click Continue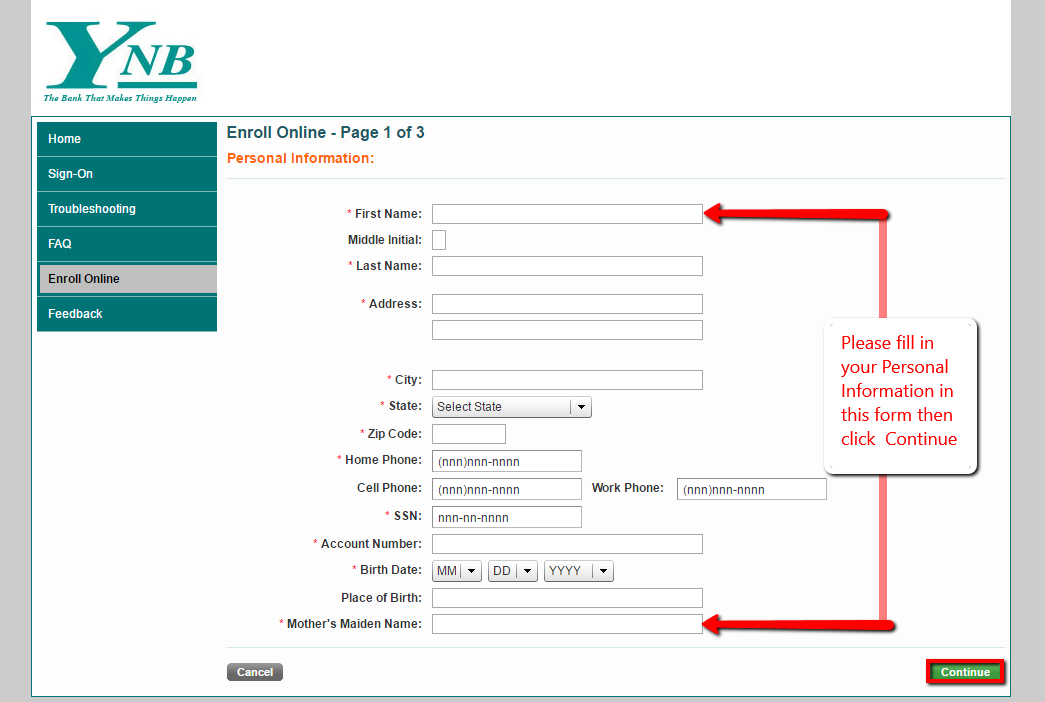 Upon validating your information, the bank will allow to proceed and set up your account
MANAGE YNB BANK ONLINE ACCOUNT
YNB Bank's Online Banking allows you:
View account balances and see transaction history
Transfer money between accounts
Pay bills to any institution, merchant, or individual