Lee Bank's Online Banking is convenient, easy and secure and offers more powerful features than ever before. Through online banking, you can access detailed information of all your bank accounts including checking, savings, CDs, and loans, in one-click. The streamlined overview page offers you an at-a-glance view of your various bank accounts. Online banking from Lee Bank provides  you 24/7 access to your accounts provided your PC is connected to the internet. The following is a guide on how to log in, reset forgotten login credentials and enroll in online banking.
HOW TO LOG IN
Lee Bank customers can only access their bank accounts online after enrolling and acquiring valid login credentials. To login, please consider these login steps:
Step 1- In your browser, click this link https://www.leebank.com/ to open Lee Bank's website
Step 2- In the homepage, please choose Personal Banking and enter your Access ID in the highlighted field, then click GO within the Online Banking section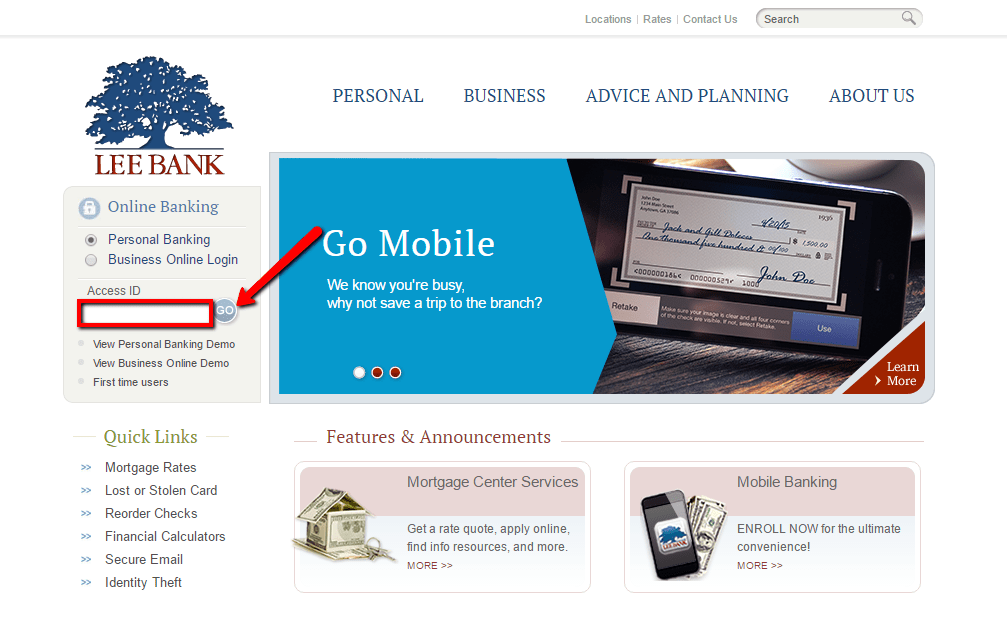 Step 3- Please enter your current online banking password in the shown field, then click Submit

After successful verification of your login credentials, the system will grant you access.
FORGOTTEN PASSWORD/ LOGIN ID?
Do you have problems recalling your login credentials? please feel free to contact the bank at 800-843-4100 to request assistance.
HOW TO ENROLL
Lee Bank allows its customers to enroll in online banking by either mailing or presenting the application form in person at the nearest branch. To enroll, please consider these steps:
Step 1- In the homepage, click PERSONAL tab shown here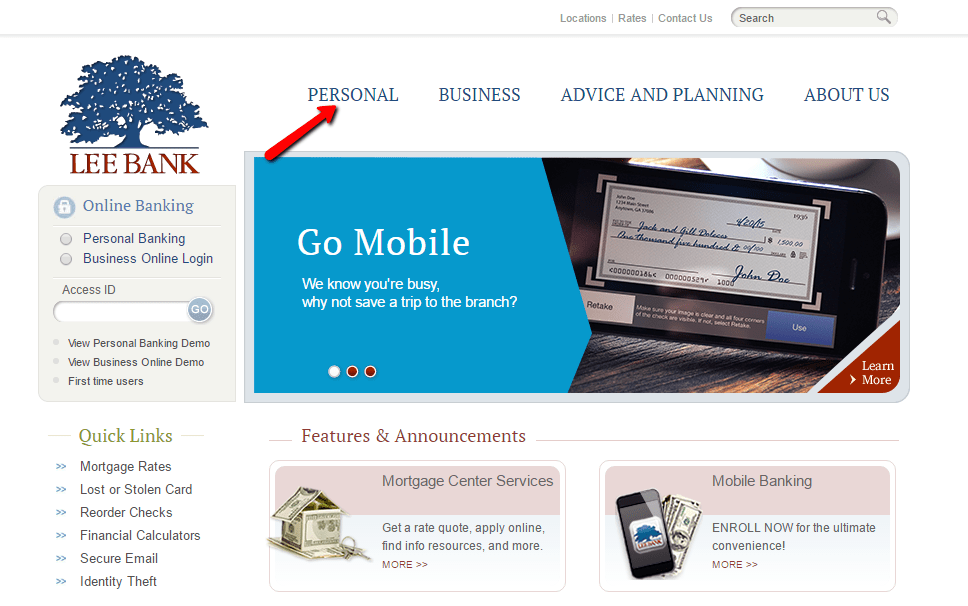 Step 2- Please click the SERVICES link shown below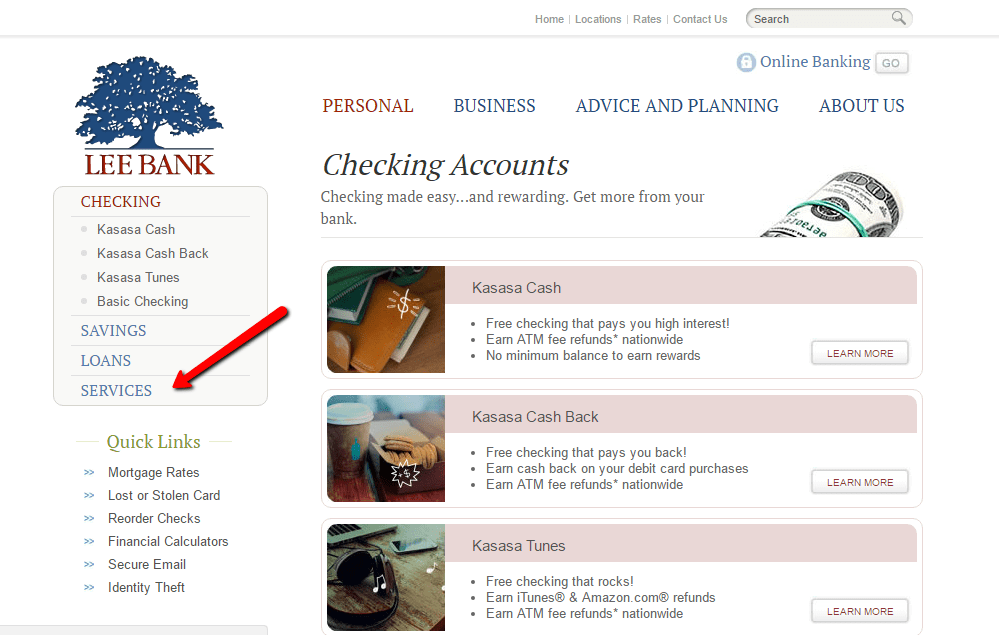 Step 3- Click the Online Banking/ Bill Pay section shown here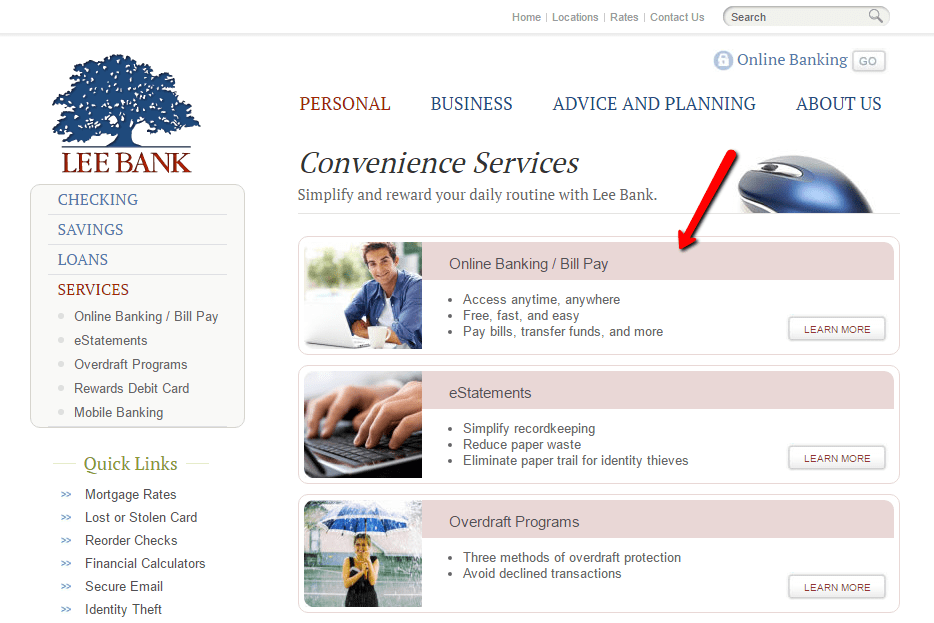 Step 4- Click the shown ENROLL NOW button to access and download the Online Banking Application form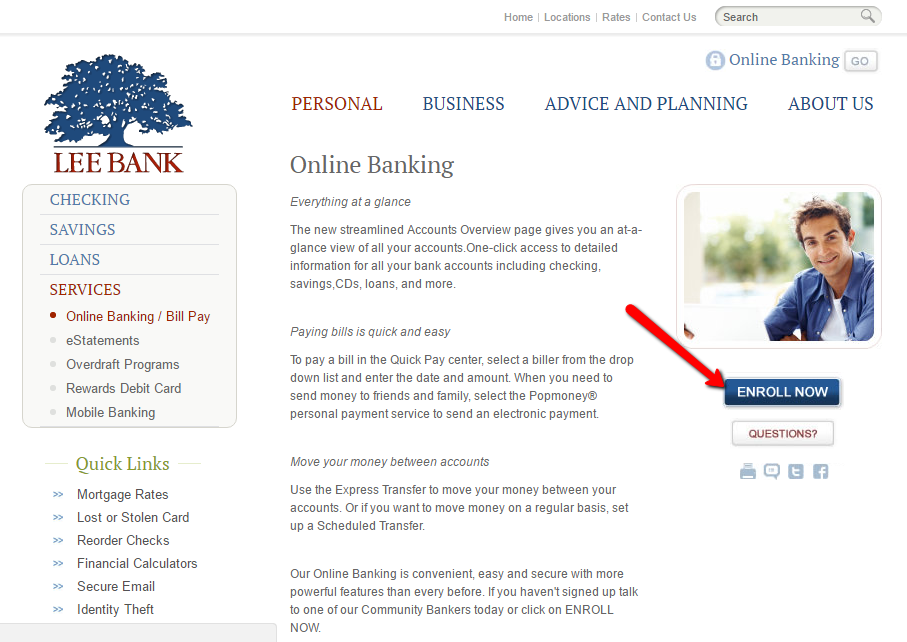 Step 5- Please download and print the application form. Tick the New User checkbox and fill in the requested information, then mail it or take it in person to the nearest branch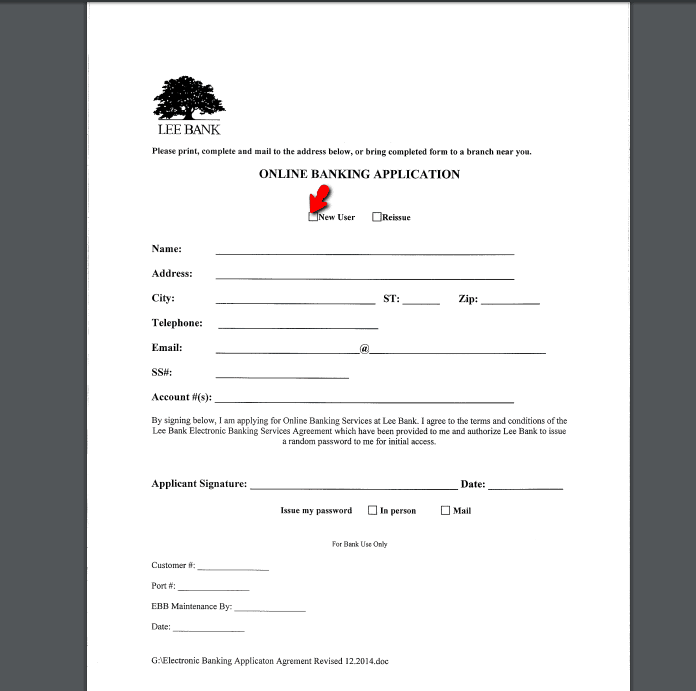 The bank will activate your online banking account, after validating your information.
MANAGE LEE BANK ONLINE ACCOUNT
Lee Bank customers enjoy the following Online Banking services:
Access account anytime, anywhere
Pay bills
Transfer funds
View transaction history