Mobiloans online service allows a flexible and more efficient way to borrow emergency cash. The online services allows for easy access 24/7 to apply for emergency loans from the comfort of your home. To learn how to sign in, how to change your password, how to apply, and how to manage your account, follow this guide.
HOW TO LOGIN
It's very easy to login into your Mobiloans online account. You will need a computer and reliable internet connection. Follow these simple steps to login:
Step 1-Use your web browser to go to https://www.mobiloans.com/
Step 2-Click 'login' as shown in the image below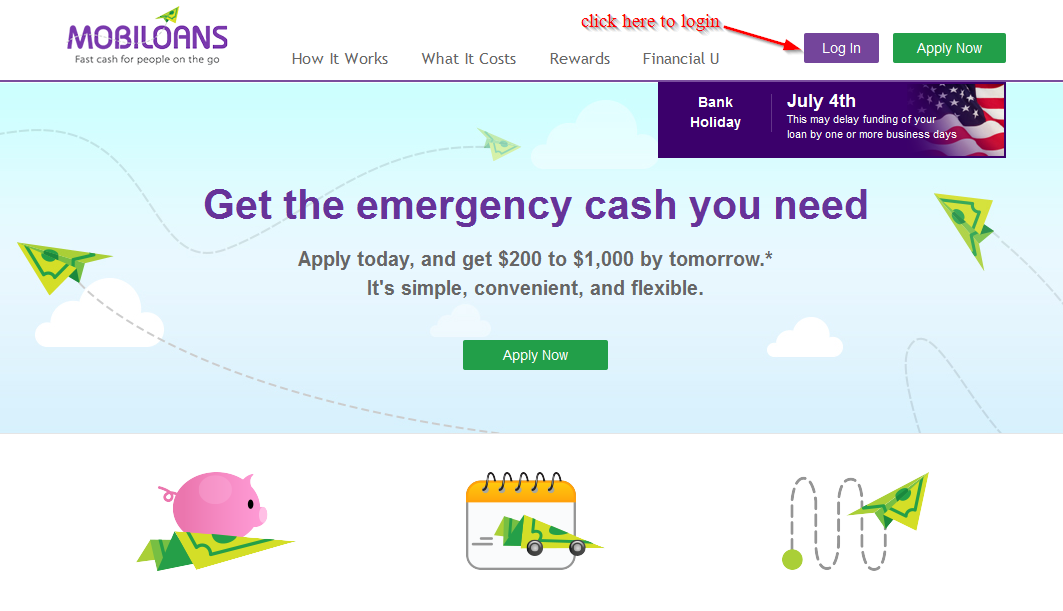 Step 3-Enter your email address and password and click 'login'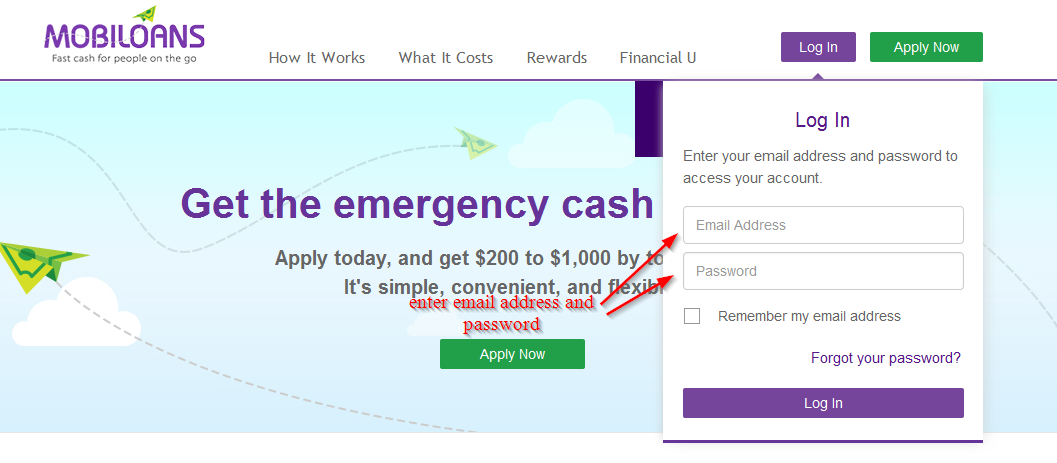 You will be directed to your Mobiloans dashboard if the login details you have entered are correct.
FORGOT YOUR PASSWORD?
If you don't key in the right password, you will receive a login error. And, using the wrong password several times will trigger security questions. Here are steps to successfully reset your password:
Step 1-Go to the homepage and click 'login'
Step 2-Click 'forgot your password'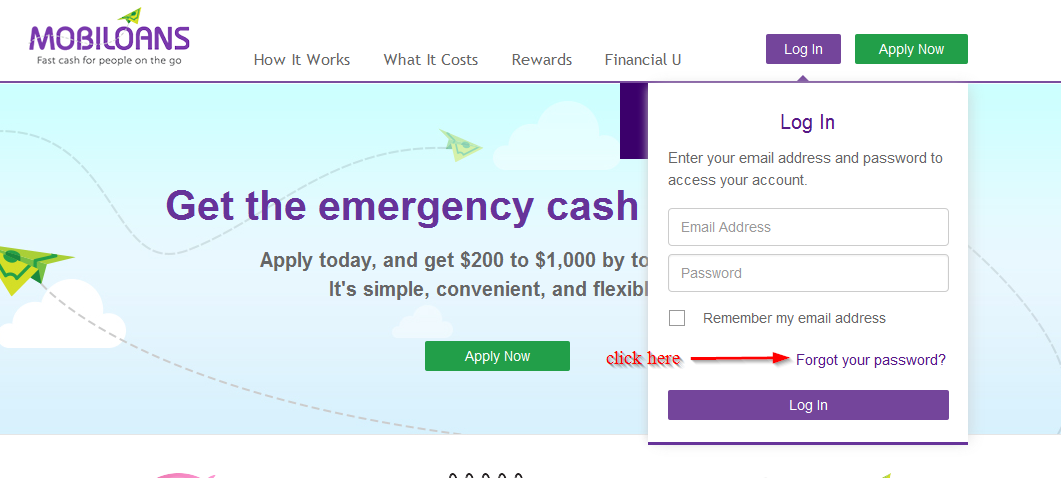 Step 3-Enter your email address for your account and click 'continue'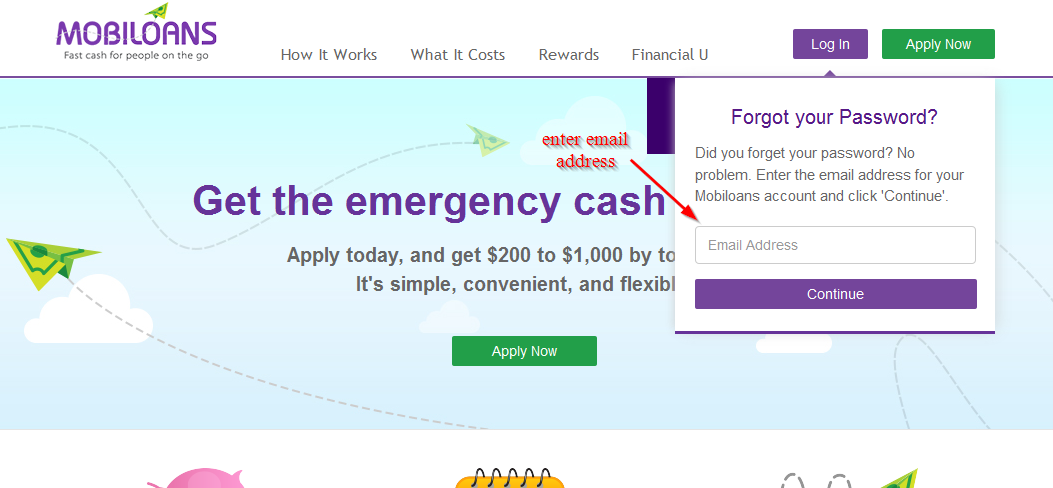 You will receive an email with a password reset link. Click on the link to set your new password.
HOW TO CREATE AN ACCOUNT AND APPLY FOR A LOAN
To apply for a loan, you will need to have an account with Mobiloans. If you don't have an account, you don't have to worry. Here are the steps you need to follow to create your account and apply for a loan.
Step 1-Go to the Homepage and click 'apply now'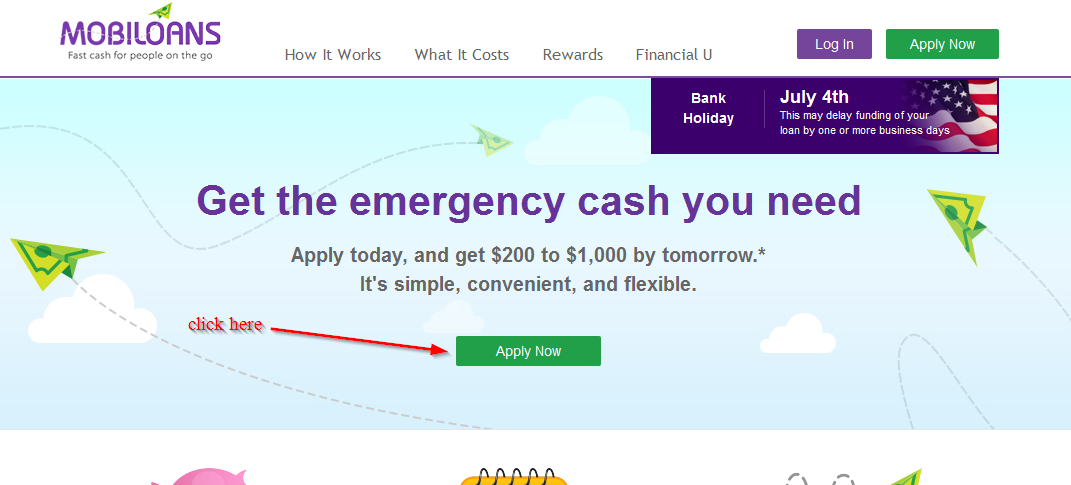 Step 2– Enter the required details (state of residence, names, date of birth, email address and password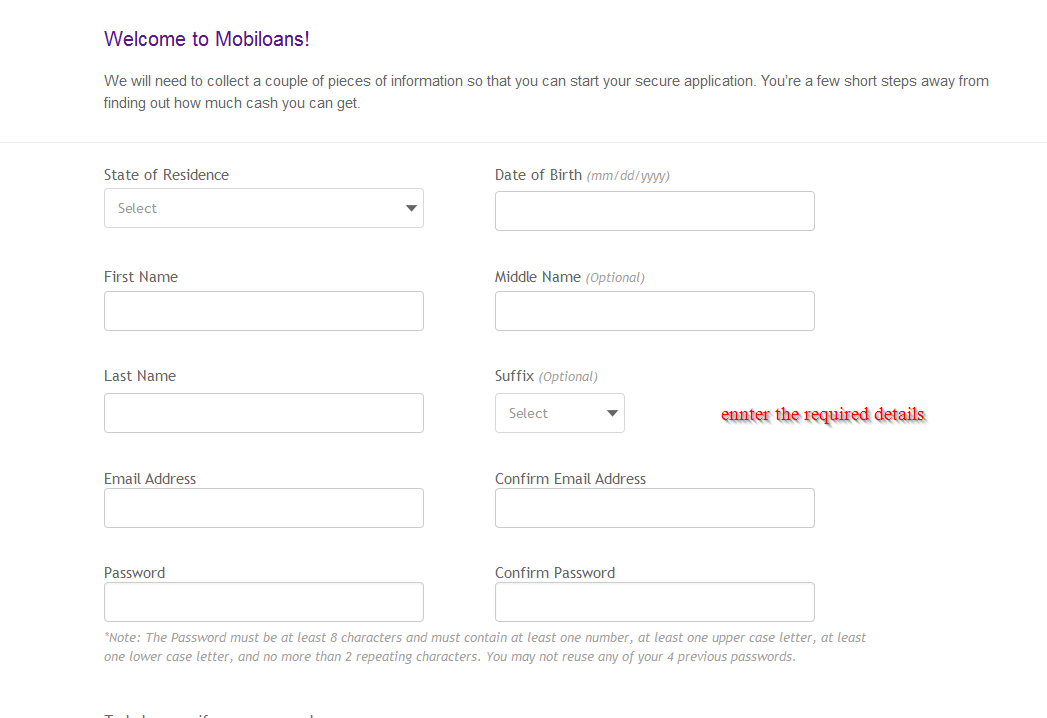 Step 3-Check the box to confirm that you are not a robot and click 'continue'
MANAGE YOUR MOBILOANS ACCOUNT
With your Mobiloans account, you can do the following:
Apply for a loan in three minutes
24/7 access to quick cash
24/7 customer support
Learn more about Mobiloans rewards
Flexible, convenient and simple access to loans
Flexible payment options
VIDEO ABOUT THE COMPANY