Santander Bank aims to make your banking hassle-free by providing simple ways for you to spend, save and manage your money. In the section below, we'll take you through the steps of Santander Bank Online Banking login, reset password and enrollment.
PNC BANK LOGIN
As a customer, you can easily and securely sign into your Santander Bank Online Banking Account from anywhere, as log as you have an internet connection. To log in, simply follow the steps shown below:
Step 1- Open your web browser and go to www.santanderbank.com
Step 2- Click on the Login button at the upper right of the homepage, then enter your User ID and click Login, as shown:

Step 2- Enter your Password and click Submit: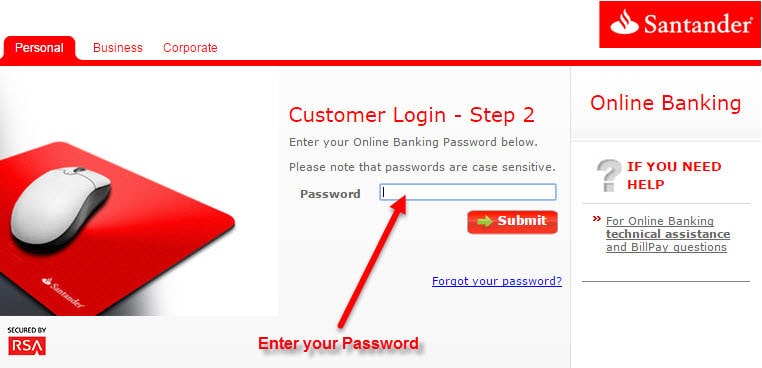 If the User ID and Password are correct, you will be directed to your Santander Bank Online Account.
Note: Password is case sensitive. Make sure that you're using the right case.
FORGOT PASSWORD?
If you forgot your password, don't worry. Here's how you can reset the password of your Santander Bank Online Banking Account.
Step 1- At the homepage, click on the Login button and then click on the "Forgot your password" link:

Step 2- Enter your User ID and your date of birth, then click Continue:
Note: For security purposes, you will be required to answer your challenge questions if you are using an unrecognized device.

Step 3- On the next page, enter the last four digits of your Santander Debit, ATM or Credit Card Number, enter your PIN number and click Continue.
Step 4- On the next page, enter and confirm your new Online Banking password, then click Confirm.
HOW TO ENROLL FOR ONLINE BANKING
You can enroll for online banking at any time as long as you hold the Santander Bank account, and you must be a U.S. resident to enroll online. To enroll for an online banking account, follow these simple steps:
Step 1- Go to the homepage, click Login and then click on the "Enroll" link as shown:

Step 2- Complete Online Banking Application with your Personal and Account details and click Continue: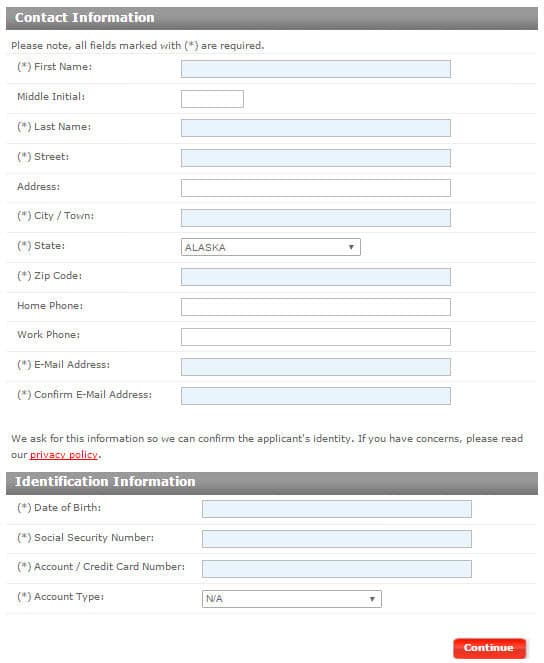 For your security, Santander Bank will validate your identity during the enrollment process. Once your identity has been verified, you gain immediate access to Online Banking with BillPay and will be prompted to select a User ID and Password.
If you need more assistance contact an Online Banking Representative at 877-768-2265, 6 a.m. to 10 p.m. ET, 7 days a week. Outside the United States, please call 1-401-432-0749. Or simply visit one of their branches.
MANAGE SANTANDER BANK ONLINE BANKING ACCOUNT
Convenient, customizable, quick, and easy, Online Banking is designed for the way you live. Our technology allows you to manage your money securely, our online tools enable you to manage it smartly. You can access your account when you need it, and conveniently do the following from your account:
Monitor your accounts in real time
Transfer funds between your accounts
Pay bills securely, quickly and easily
Sign up for eBills
Receive alerts
Order checks
Stop payments
Replace lost or stolen cards
And much more…
VIDEO INSTRUCTIONS