Currently, Zopa has lent more than three billion euros to UK residents. The firm has more than sixty thousand active individual investors and a number of financial institutions. In addition, the firm has more than two hundred thousand borrowers who have been approved. Zopa is shaping the future of finance through the provision of flexible, competitive rates and intuitive products. Zopa aims at making money simple and fair for people to take control of their finances.
HOW TO LOGIN
If you have registered for an account on Zopa, you can access your account information online by following the steps below:
Step 1 – Click here to open the website in a new tab and then click on the "Sign In" hyperlink located on the upper-right side of the screen.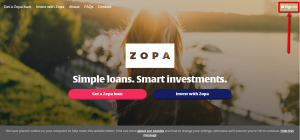 Step 2 – Enter your email address and password that you provided when registering for an account and then click on the "Sign in securely" button.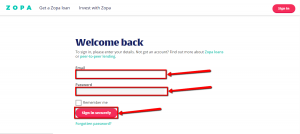 You should have signed into your account if you entered your details correctly. Note that you can click on the "Remember me" checkbox if you are using your own personal computer to login automatically the next time you visit the site. Uncheck the box if you are using a publicly accessible computer so as to prevent other people from accessing your account.
HOW TO RESET/FORGOTTEN PASSWORD
The steps below will guide you on how to recover your account in case you cannot remember your password:
Step 1 – Click on the "Forgot password?" link located below the "Sign in securely" button if you cannot recall the password for your Zopa account.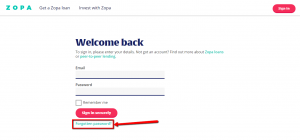 Step 2 – Enter the email address that you used during registration and then click on the "Email me a reset link" button. Zopa will send a reset link to the email you provided within a few minutes. Note that the reset link with expire in 24 hours from the time you receive it. Hence, check your email as soon as possible once you request it.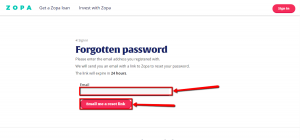 If you are having problems receiving the reset link, contact the customer support department at 020 7580 6060 or 020 7291 8331 to seek further assistance. You can also reach out to the company via email at [email protected]
HOW TO SUBMIT PAYMENT
Step 1 – Open the site in a new tab by clicking here and then press on the "Sign In" hyperlink located on the upper-right side of the screen. You will need to log into your account before you can submit any payment as a borrower or as an investor.